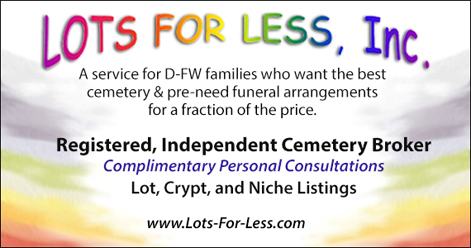 Lots for Less, Inc. does not buy cemetery property. Instead we facilitate your purchase of the choicest lots, mausoleum crypts, cremation niches and cremation ground spaces for as little as half the current cemetery prices.
Our listings are the choicest property because it was purchased by individuals many years ago when a family had the choice of the whole cemetery. They or their heirs are now selling their property mostly because their plans have changed in favor of moving out of town, cremation, or free burial for eligible veterans at the new DFW National Cemetery in Grand Prairie.
In addition, we PRE-QUALIFY EVERY LISTING to verify that the person selling the spaces has a legal right to do so as documented by cemetery records. With Lots for Less you can feel safe knowing there will not be any problems with your choice if you choose to purchase the property.