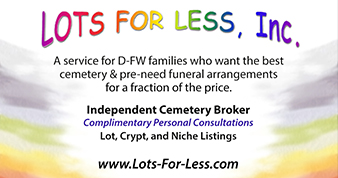 You will be assisted by someone who can answer your questions without bias because we are not affiliated with any cemetery or funeral home! This is a very personal decision, and we can show you many options and make suggestions and comparisons so that you feel confident about your decision.
Unlike most online-only websites selling burial property, we PRE-QUALIFY EVERY LISTING to verify that the person selling the spaces has a legal right to do so as documented by cemetery records and we facilitate the transfer of ownership to assure you that the official cemetery records show you as the new owner. No surprises when you need to bury a loved one!
40 years of cemetery and funeral home experience equips us to work with you either at the time of need or on a pre-arrangement basis.